Le grand rassemblement de la Fête du Partage aura lieu au Québec et au Maroc

veuillez prendre note que la fête du partage du Québec aura lieux les 7, 8 et 9 août 2015
The great gathering of the Sharing Gathering will be held in Quebec and Morocco

please take note that the Quebec's sharing gathering will be held the 7th, 8th and 9th of august 2015
Time has come for the gathering of all nations
vidéo promotionnelle de la fête du partage
promotiannal video of the Sharing Gathering

This slideshow requires JavaScript.
Pour entendre la chanson thème de l'A.D.N.  visitez la page vidéos
To listen to the theme song of the A.D.N. visit the videos page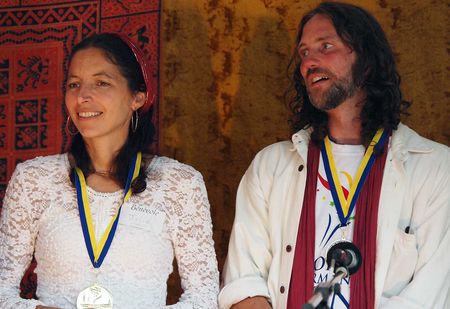 En 2010 Bhashan et Julie ont reçu la médaille torch bearer award du World Harmony Run pour leur dévouement et travail pour l'unité et l'harmonie dans le monde!
In 2010 Bhashan and Julie received the torch-bearer award of the World Harmony Run for their selfless work and amazing contribution to world oneness and harmony!
Qu'est-ce l'A.D.N. ?
(english text follows)
L'Alliance des Nations est une O.N.G. qui a pour but de faire comprendre à tous les peuples qu'il est possible d'être unis dans la diversité.
Briser les barrières entre les différentes nations, faire comprendre aux gens que nous sommes tous semblables malgré nos croyances, nos différences de pensées ou nos appartenances religieuses ou spirituelles, voilà notre priorité.
Le tout se fait par l'organisation d'événements où toute la population est invitée et où tous auront la possibilité d'être en contact et de partager avec des nationalités, croyances et religions qu'ils connaissent mal ou pas du tout. Par le fait même, tous auront l'occasion de partager leurs propres pensées avec les autres.
Nous organisons chaque année un événement majeur nommé la fête du partage, une fête toute spéciale qui consiste à inviter toutes les communautés religieuses et toutes les nationalités différentes à se rassembler et festoyer dans la paix et la compréhension. Invitant tous et chacun à faire connaître leurs cultures, leurs religions et les rites qui s'y rattachent ainsi que leurs nourriture nationales ou religieuses.
L'Alliance Des Nations veut faire connaître cet événement à l'échelle mondial pour qu'un jour la fête du partage soit réalisée dans 108 pays en même temps via satellite et les médias.
TOUTE LES NATIONS UNE SEULE NATION est un cri de rassemblement! C'est l'espoir de voir un jour fleurir la paix sur terre.
Il est possible de se comprendre et de se respecter dans une paix et un amour universel et inconditionnel.
Je me nomme Bhashan et je suis le porte parole de l'A.D.N si vous voulez m'aider à réaliser cette mission humanitaire vous pouvez me rejoindre au (450) 758-5864.
Je parle français et anglais.
Imaginez des chrétiens, des juifs, des musulmans, des bouddhistes, des sikhs, des dévots de Krishna, des amérindiens, autochtones et plusieurs autres communautés rassemblées toutes ensemble en un seul lieu, la main dans la main et festoyant dans la paix! C'est le rêve de bien des gens! Ils attendent seulement que vous fassiez partie de ceux qui y croient!
Car tout est possible!
Que la paix soit avec vous!
Bhashan
_________________________________________________________________
_________________________________________________________________
What is A.D.N. ?
The Alliance des Nations (alliance of nations) is a non lucrative association that goal is to gather the nations.
To break the barriers between the different nations, to make people understand that we are all similar in spite of our beliefs, our differences in thoughts or our religions, that is our priority.
All this is done by the organization of events where all the population is invited and where everyone will have the possibility of being in contact and of sharing with nationalities, beliefs and religions which they know badly or not at all. At the same time, everyone will have the chance to share their own thoughts with the others.
Every year we organize a major event called the sharing gathering, a special gathering that consists of inviting all religious communities and all different nationalities to gather and feast in peace and understanding, inviting everybody to tell us about their own culture, religion and rites as well as their national or religious meals.
The Alliance of the Nations wants this event to be known worldwide in order to, one day, celebrate the sharing gathering in 108 countries at the same time via satellite and medias.
ALL NATIONS ONE NATION is a shout for gathering! It is our hope to see, one day, peace flowering on earth. It is possible to understand and respect each other in peace and an universal and unconditional love.
My name is Bhashan and I am the ambassador of the A.D.N. If you want to help me carry out this humane mission you can reach me at
450-758-5864.
I speak French and English.
Imagine Christians, Jews, Moslems, Buddhists, sikhs, Krishna devotees, native people, and several other communities all gathering in only one place, hand in hand and feasting in peace!
It is the dream of many people!
They are just waiting for you to believe in it!
Because everything is possible!
May peace be with you!
Bhashan